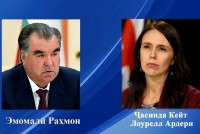 The Founder of Peace and National Unity, Leader of the Nation, President of Tajikistan Emomali Rahmon has sent a message of condolences to the Prime Minister of New Zealand Jacinda Ardern.
The message reads:
"Your Excellency,
It is with great sadness and abomination that I received the news of the terrorist attack at the mosques of the city of Christchurch in New Zealand, which caused the death of 49 people and injured dozens of citizens.
This tragic incident once again reveals the true essence of terrorism, which has no relation to any religion, nation or nationality and decisively dictates the need to continue the collective struggle against this global threat.
We express our deep condolences to the friendly people of New Zealand, the families and friends of the victims and wish a speedy recovery to those who were injured."