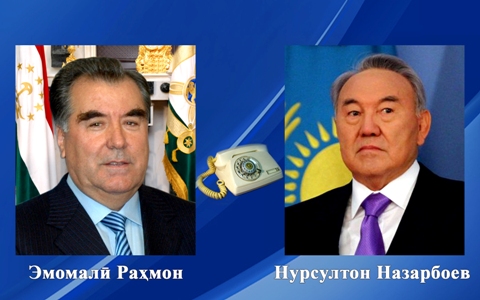 Today, the Founder of Peace and National Unity, Leader of the Nation, President of Tajikistan Emomali Rahmon had a telephone conversation with Nursultan Nazarbayev, who has made the decision to resign from his post as the President of Kazakhstan.
President Emomali Rahmon wholeheartedly thanked Nazarbayev for the many years of his fruitful cooperation and expressed his satisfaction that the Kazakh leader will take an active part in political arena for the benefit of the brotherly people of Kazakhstan and the region as a whole.
The leader of Tajikistan highly appreciates Nazarbayev's contribution toward establishing and developing the Tajik-Kazakh friendship and the multifaceted cooperation between the two countries.
"A lot of it was due to your wise and far-sighted policy. Interstate relations between Tajikistan and Kazakhstan have always had high development dynamics and it is gratifying that the cooperation between the two countries has reached the level of a strategic partnership," emphasized President Emomali Rahmon.
President Emomali Rahmon affirmed his willingness to continue the well-established, constructive interaction with Nazarbayev and noted that he will be glad to see him, whom he can call his true friend and a brother, in Tajikistan.