Qatar-Tajik Joint Intergovernmental Commission meet in May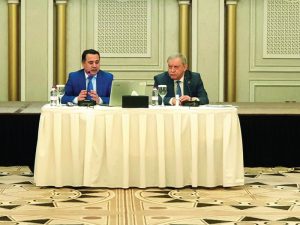 The Qatar and Tajikistan Joint Intergovernmental Commission on Economic, Trade and Technical Cooperation meeting will be held in Doha in May this year, Ambassador of Tajikistan to Qatar HE Khisrav Sohibzoda has said.
The envoy said the Tajik delegation would be headed by Minister of Economic Development and Trade, while the Qatar delegation will be led by the Minister of Trade and Industry.
Talking to media after a briefing on his country's priorities as President of Shanghai Cooperation Organization (SCO) for the year 2021, Ambassador Sohibzoda lauded the strong relations between Qatar and Tajikistan in all spheres, adding that everyone in Tajikistan is waiting for the visit of the Amir His Highness Sheikh Tamim bin Hamad Al Thani, for which the dates are under consideration. He said that Tajikistan will be celebrating Qatari culture day this year.
The media briefing was attended by ambassadors of the member states of SCO and other cooperating countries, including Russia, China, Turkey, Pakistan, India, Azerbaijan, Kyrgyzstan, Kazakhstan, Iran, Moldova and Belarus.
The Shanghai Cooperation Organisation (SCO) is a Eurasian political, economic and security alliance, which was signed in June 2002 among its members China, Russia, Pakistan, India, Tajikistan, Uzbekistan, Kyrgyzstan and Kazakhstan.
The SCO also has four Observer States of Afghanistan, Belarus, Iran and Mongolia and six Dialogue Partners — Azerbaijan, Armenia, Cambodia, Nepal, Turkey and Sri Lanka.
On his country's priority during the SCO presidency, the envoy cited the following: Pursuance of constructive policy; maintaining peace, security and stability; adoption of joint measures to overcome socio-economic challenges, combating pandemic threats; development of cooperation in areas of justice, education, culture, science, sports and tourism; continuation of practice holding high-level joint events of cooperation between SCO and the UN and its various agencies.
He said SCO and Afghanistan, since the beginning of the establishment of SCO in 2002, have a Contact Group to work closely in economic and social development sectors.
He said that on March 30, Heart of Asia-Istanbul Process conference will be held at the foreign ministers' level in Dushanbe, the Tajik Capital.
The conference will focus on economic and social development support for Afghanistan, transport, culture and combating terrorism and extremism.
He said Qatar is highly respected as an established peacemaker in the world by providing platforms to various countries to solve their conflicts through peaceful dialogues.
He added that Tajikistan, a neighbouring country to Afghanistan, fully supports Doha Peace Dialogues among the Afghan factions to bring peace and security in Afghanistan as well as to the region.
Sohibzoda said Qatar enjoys close relations with all SCO member states, stressing that Qatar as a regional economic leader can play a strong role along with SCO in its economic development programme.
The event coincided with Nawruz New Year (Persian New Year), celebrated in many countries with significant Persian cultural influence, including Iran, Iraq, India, Afghanistan and Central Asian countries.
Following the event, Ambassador Sohibzoda hosted a luncheon for the guests in celebration of Nawruz New Year.