Meeting with the Minister of State for Foreign Affairs of Qatar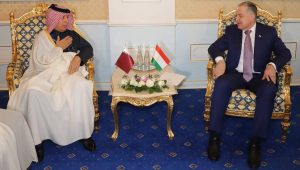 On March 30, 2021, in Dushanbe on the sidelines of the 9th Ministerial Conference of the Heart of Asia – Istanbul Process, the Minister of Foreign Affairs of the Republic of Tajikistan Sirojiddin Muhriddin met with the State Minister for Foreign Affairs of Qatar Sultan Al-Muraikhi.
The sides, expressing satisfaction with the dynamic development of relations between Tajikistan and Qatar, stressed the need to strengthen cooperation between Dushanbe and Doha.
At the end of the meeting, the Minister thanked the head of the Qatari delegation for the participation of the State of Qatar in this Conference as a guest.