Telephone conversation of the President of Tajikistan with the President of Kyrgyzstan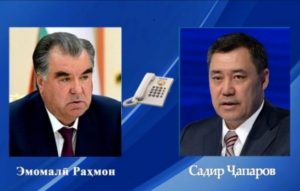 On 30 April 2021, the Founder of Peace and National Unity — the Leader of the Nation, President of the Republic of Tajikistan His Excellency Emomali Rahmon held a telephone conversation with the President of the Kyrgyz Republic His Excellency Sadyr Japarov.
During the conversation, the heads of state spoke about the latest conflict incidents in the border areas and discussed the current situation on the Tajik-Kyrgyz border.
They stressed the particular importance of coherent implementation of the agreements aimed at normalizing the situation and preventing its escalation, in particular, on a complete ceasefire and the withdrawal of troops from the border line at a specified time.
In this context, the presidents also emphasized the importance of continuing the Tajik-Kyrgyz interstate dialogue to further advance the negotiation process on border delimitation.
Agreements were reached to hold a meeting of the Intergovernmental Commission of the Parties on Delimitation and Demarcation on May 1 in Batken city of the Kyrgyz Republic.
It was also agreed to resolve the entire range of issues of Tajik-Kyrgyz relations on a bilateral basis in the spirit of good-neighborliness and mutual understanding through negotiations and consultations.
The head of our state invited the President of the Kyrgyz Republic Sadyr Japarov to pay an official visit to Tajikistan in the nearest convenient time.
The invitation was accepted with satisfaction by the President of Kyrgyzstan.
The exact dates of the visit will be agreed upon through diplomatic channels.
As a result of the conversation, the parties gave specific instructions to the relevant ministries and departments to take the necessary measures on all topical issues of Tajik-Kyrgyz good-neighborliness and mutually beneficial cooperation.
https://mfa.tj/en/main/view/7622/telephone-conversation-of-the-president-of-tajikistan-with-the-president-of-kyrgyzstan