Meeting with the Minister of State for Foreign Affairs of Qatar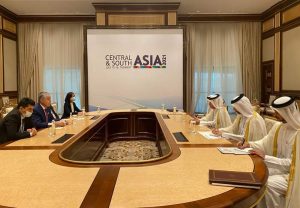 On 16 July 2021, in Tashkent, the Minister of Foreign Affairs of the Republic of Tajikistan Sirojiddin Muhriddin met with the State Minister for Foreign Affairs of Qatar Sultan Al-Muraikhi, on the sidelines of the International Conference "Central and South Asia: Regional connectivity, Challenges and Opportunities".
During the meeting issues of expanding bilateral relations between Tajikistan and Qatar in various fields and cooperation of the two countries within the framework of international and regional organizations have been discussed.
At the same time, the parties discussed issues of combating terrorism and extremism, strengthening security, peace and stability in the region and the current situation in Afghanistan.
https://mfa.tj/en/main/view/8294/meeting-with-the-minister-of-state-for-foreign-affairs-of-qatar